In the first game I was totally falling for Alistar, the awkward templar who had a good heart and was the only other Grey Warden in all of Ferelden with you. You bonded over loneliness and using flowers as weapons.
I'm now playing Dragon Age II, and who do I find myself enamored with? The exact opposite of Alistar.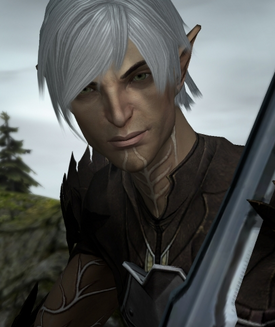 This Adrien Brody look-alike elf is super hot. Do not deny that.
Crazy, right? I go from a dorky sincere knight to a dark and brooding escape slave. Why can't I be consistent?
Oh yeah, it's fiction, why should I care?
Review so far: I like the story and I want to get more of it, and I like how it's a bunch of little pieces that will eventually come together, but... the fighting is getting in the way. As in the cooldown times are way too long for such quick battle actions and wave upon wave of baddies. The story is good enough that I'm still going through it. Hooray for playing a snarky apostate! I'll keep you all updated, I'm only in Act I and almost ready for the deep roads.